Mammoth's Police Chief Dan Watson states that the current shortage of supervisors in his department has led to "critical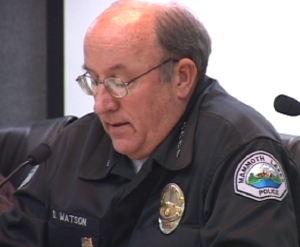 administrative duties that are not being performed as required" with a diminished level of service to the public and supervision of officers. Chief Watson states that collectively, "This puts the Town at risk." Once more Chief Watson will ask the Town Council to fill some positions in the Mammoth Lakes Police Department.
In December, the Chief had asked the Council to fill a vacant lieutenant's job and to add and fill a sergeant's position. Officials mostly said they could not agree to do that out of money concerns. Since that time, the Town received the bad news of the Appeals Court loss on the $30 million court judgment and the success of former Sergeant Eric Hugelman's termination appeal. It all adds up to a lot of money from Town government.
Wednesday night, Chief Watson will try again to convince the Council of the public service and safety needs to add personnel to the Police Department. The Chief lists many concerns and burdens on the department employees. He recommends that the Town phase in four employees over the next year and a half. They are lieutenant, sergeant, officer and community service officer.
Watson also suggests some classification changes in current positions. This police issue is item number 4 on the Council's agenda that starts at 6pm in Suite Z.