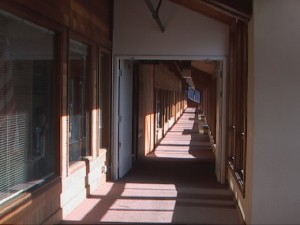 Mammoth Town government has a long-term, structural, financial problem that will require more cuts.  That's what Assistant Town Manager Marianna Marysheva-Martinez said when Sierra Wave News asked her if the Town has a chronic lack of money to cover costs, aside from the $42 million debt issue.
Next fiscal year, the Town expects a nearly $3 million shortfall.  Revenues, Martinez said, are not keeping up with expenses. Partly as a result of this, the Town sent out letters to all Town creditors, including employees, to ask them to mediate lower payments.  One of the Town's legal firms is working to get a mediator on board to begin sessions this month. This type of mediation can be a prelude to bankruptcy.
Martinez said Mammoth is experiencing what many towns, counties and states now deal with – rising retirement, medical and other costs in the face of declining revenues.  It means as things are now, Mammoth can not pay its bills long-term without making more changes.  Martinez said Transient Occupancy Tax is not growing as it used to, and property taxes are dropping due to real estate issues.  Sales taxes are growing but the increase is not keeping up with the expenditure side.
Asked how chronic the Town's money problems are, Martinez said, "We're in a very challenging situation.  It's structural.  Long term, revenues can't cover costs."  Martinez said that's why the Town invited all creditors to mediate.  She said there needs to be a "major restructuring involving operations, costs, employees and services provided."
And, the costs are rising.  Next fiscal year, Town employees' contracts entitle them to a 4.5% pay  increase.  CalPERS, the state retirement fund, has lost money over recent years through its stock market investments.  That means the Town has to pay more into the pension system.  More recently, CalPERS experienced another revenue decline.  Again, more money required from the Town.  Medical insurance costs have gone up 5 to 9%, Martinez said.  Service contracts have gone up.  The bottom line – salaries, benefits and retirement are going higher than revenue on a consistent basis.
Martinez called it a "huge problem."  She said given the magnitude, it's not enough to just look at services. Officials are now at work on what they call a Restructuring Plan which "attempts to take a little from everyone." This plan is the key component in upcoming confidential mediation sessions. Martinez said the Town will ask mediation participants if the plan can go public.
All of this grim news does not even include Mammoth Lakes Land Acquisition and its $42 million debt. An Associated Press story published in many newspapers says Mammoth Lakes is the second local government after Stockton to use a new state mediation process as it contemplates bankruptcy.  The AP reported that Assembly Bill 506 requires local governments to enter an evaluation process with bond holders, creditors, employee unions and retirees for up to 90 days in an effort to avoid Chapter 9 protection.
The Assistant Town Manager did say officials want to engage the public in the budget process to talk about how to deal with this long-term financial problem.  Those public talks will not happen until later this month or next. Could the situation lead to cutting Town departments?  Martinez said it could, but "we would have to hear from the public first."