Mammoths Meb Keflezighi won the New York Marathon on Sunday by 41 seconds. According to news reports, the 34-year-old Keflezighi gave the sign of the cross and performed a push-up after he ran through the finish line.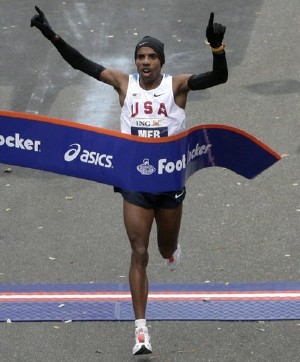 Keflezighi, born in Ethiopia, became an American citizen in 1998 and has lived and trained in Mammoth Lakes for the past few years. Keflezighi ran the New York City Marathon in his personal best time of 2:09:15. This victory also gave him the USA Marathon Championship.
Reports said Keflezighi asked for the American flag to wrap himself in after his stunning victory. Reports said that he cried for his friend Ryan Shay who had died in Central Park while running in the Olympic Trials two years ago.
Keflezighi had won the Olympic silver medal in 2004 in Athens. He was then the first American to win any Olympic medal in nearly 30 years. He was the first U.S. winner of the New York Marathon since 1982.