With the Fourth of July just over a week away, the big question for Mammoth Lakes – where will people park if they want to go to the Village?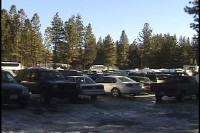 Mammoth Mountain Ski Area, owners of the surface parking lot, made it clear that they will shut down that lot on July 1st. The Village business owners, CNL, have declined to deal on any of these issues, even as they raised rents for tenants.
Assistant Town Manager Karen Johnston said that the Town still has the concept for a parking garage at Canyon and Hillside but needs CNL to agree to an assessment district. So far, they have not.
Johnston said use of the surface parking lot is up to MMSA, who had put it in place for parking as a courtesy with plans to build on it later. Johnston said that the Town and MMSA are on board with plans for a parking garage but CNL isn't. Now, the money situation in Town is more strained. Johnston did say that the Town and Mountain do have a financing plan for a parking structure.
As for a chance that the surface parking lot might remain open, Johnston said the Town is trying to work on arrangements.