ESNSA press release
The 2017 Mammoth Winter Biathlon has come and gone and we wanted to take a minute to thank all of the participants, volunteers and spectators.
Our biathlon has a long history of being an inclusive event, has seen different venues and has ranged from very humble beginnings at Obsidian Dome to a magnificent 20 lane range out at Reds Lake.
We think we may have found our permanent home which will make it more sustainable for our volunteer-based group and even potentially increase the number of events we can do each year. We received nothing but positive feedback from athletes about the course, and we are hopeful we can work with Tamarack Cross Country Ski Area and the United States Forest Service to make some changes to the range.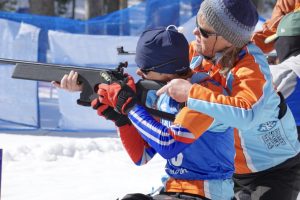 We scaled back this year, but hope to bring back laser and live-fire clinics and food service next year. We'd appreciate any other feedback you may have. Please feel free to provide comments and suggestions to: [email protected].
We couldn't do this without our loyal volunteers and sponsors.
Sponsors:
Absentee Homeowner Services; Alpenhof Lodge and Petra's Bistro; Disabled Sports Eastern Sierra; Dr's. Baharaei and Koehler, General and Trauma Surgery at Mammoth Hospital; Cherne, Harrell & Parisky – Mammoth Radiology; Eastern Sierra Armory, Kittredge Sports; Kelly Painting; LA Police Gear; Mammoth Emergency Room Physicians; Mammoth Orthopedic Institute; Mary Bassler, MD; Thomas Reid, MD; Rock Creek Lakes Resort, Robert D Creasy Architecture, Roberto's Mexican Café; Silver Lake Resort and The Sheet News.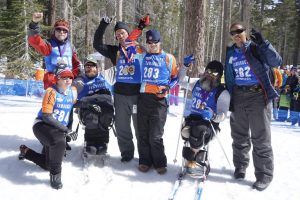 Volunteers:
Chris Thompson, Tom & Michelle Reid, Robert Creasy, Jeff Perry, Clayton Mendel, Andy Lehr, Pam Bold, Nicole & Jamie Godoy, Al Davis, Chris Walker, Keith Erricson, Kyle Howell, Dave Schacht, Jen Girard, Pete Korfiatis, Rich Boccia, Thom Heller, Phil Higred, Lisa Craven, Andrea Fazio, Jenn Holmes, Greg & Shanna Bissonette, The Mahler Family, Steve Searles,  Shauna Schultz, Hayden Mannetter, Quinn Contaldi, Britt Cogan, Lorene Samoska, Michael Seiffert, Kelly Hawtrey, Paul Osterheus, Shannon Bagshaw, Rita & Kathi Kirkeby, Kaitlin Murico, Harold Bradford Vance, Cheryl Buchanan & all others that stepped in to give a helping hand.
Photos:
Check out our Facebook page for photos, or: https://kirkebydesignphotography.smugmug.com/organize/Mammoth-Winter–Biathlon-2017-Tamarack-XC-Ski-Center
Results:
http://farwestnordic.org/raceresults/results20162017/biathlon1617/mammoth_biathlon17.html
We'll be in touch and promise to give you more lead time on next year's event.
Our best,
Eastern Sierra Nordic Ski Association