Mammoth Community Water district officials went to appliance rebates to squeeze more water savings out of the town. They will pay rebates from $100 to $400 or more, depending on the water saving device.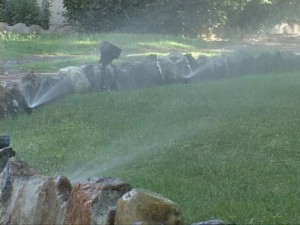 According to Water district officials, customers can find themselves eligible for one-time rebates. For example, the District will pay $100 if the customer installs an ultra low flow toilet and $200 for a 1.3 gallon toilet.
A water saving washing machine commands $200 and commercial prices go higher. A weather-sensing irrigation system that shuts off the sprinklers when it rains comes with a $400 rebate. Landscape contractors can reap major rebate rewards, too.
Is it really worth it, you say? Ultra low flush toilets save thousands of gallons of water annually. They can reduce toilet water use by as much as 54%. Water-saving, front loading washing machines can save as much as 75,000 gallons of water over its lifetime.
Water District officials say that landscape irrigation can actually triple the water demand during summer months in Mammoth Lakes. Water efficient sprinkler heads, rain shut off sensors and other water saving devices can deliver a water savings of 15 to 30%. Check in with the Water District for details.