On the water scene, for many years Mammoth Community Water District has studied the underground around the town. That's a key part of Mammoth's water supply. When they meet Thursday, the Mammoth Water Board will hear another presentation from a consultant on the town's underground.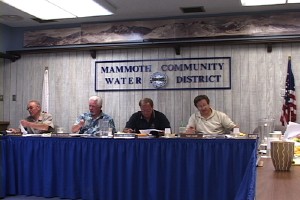 Wildermuth Environmental, a water resource consulting firm has a report on work to develop a Mammoth Groundwater Basin Model. A better understanding of just how much water sits below ground will help with resource planning for the future.
Meanwhile, the Board will also hear an update on the remaining water supply for the 2009 irrigation season. Outdoor watering has consumed less water this summer than in the past.
Another way to save water – recycled water use – will also go before the Board for talk. Officials may approve an ordinance on rules and regulations for the delivery of recycled water. Both golf courses are engaged in a recycled water program with the district.
The Mammoth Community Water District Board will meet Thursday at 5:30pm at water district offices.