For those who used to call us with exasperation that the Town of Mammoth Lakes was wasting water by sprinkling the pavement on Main St., good news. At the last meeting of the Mammoth Community Water District, Town representatives revealed that the Town installed an underground drip system at the Community Center and Library site. Plans to use the same kind of system will go forward at the new Town ice rink site.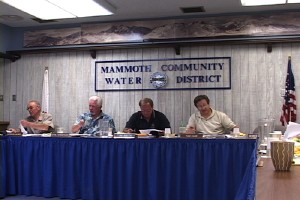 Score one for water conservation. More on water at the last meeting. The Water Board adopted a variance to the existing Level 1 Water restrictions. This will allow landscape contractors to finish turf installation contracts that were executed before the water restrictions started at the end of July.
KThe Water Board also talked about the possibility of a permanent watering schedule to encourage water conservation regardless of the existing water supply situation. More on this at the October Board meeting.
Also at the October meeting, more tlak about an employee housing agreement, which will be used as part of the Water District housing purchase assistance program.