The approval of a settlement agreement by the Mammoth Community Water District's Board of Directors was the first step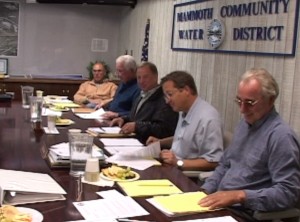 in laying to rest a longstanding issue between CalTrout and the District. In 2004 CalTrout filed a legal complaint to the State Water Resources Control Board against the District in the form of a petition. CalTrout wanted to push the District to collect the necessary scientific data to determine whether or not the minimum water flows being maintained in Mammoth Creek were at healthy levels for fisheries in the creek.
The permit that the Water District operates under states that they are only allowed to divert surface water from the creek if it does not affect fisheries, according to Mark Drew, Eastern Sierra Program Manager for CalTrout.
Collaborative efforts between the District, CalTrout, and the Department of Fish and Game, which is the responsible state resources agency for assuring the trout fisheries are healthy, allowed studies to be done on the flows. The scientific reports came back saying that the flows were adequate and that the fisheries were in okay condition. Therefore, the flows listed in the settlement agreement approved on November 19 are practically identical to the flows the District has been working with since 1997.
"Really the agreement helps to codify and officially settle the requirements," said MCWD General Manager Greg Norby.
The minimum flow requirements are different each month, but range from 5.5 cubic feet per second to 20.8 cubic feet per second, depending on the time of year. Norby clarified that these are natural flows.
"The District does not release any water into the creek," Norby said. It just means that if the natural water flow is not at its minimum, the District cannot divert any water from the creek.
Additionally, the settlement agreement looks to improving fisheries going forward. MCWD has agreed to contribute $10,000 per year for the next 20 years to help enhance fisheries, according to Drew. The District will also be developing a water conservation plan for the town under the approved settlement agreement.
Once the settlement agreement is signed, it will act as the proposed project for a new Environmental Impact Report that the District will draft and make available to the public next spring.