Staff with the Mammoth tourism and recreation department has published results from winter recreation surveys taken last winter and in 2004.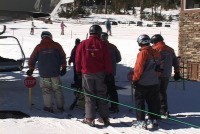 Town Communications Manager Stuart Brown explained that the results are just one survey but that they do validate a lot of assumptions about Mammoth visitors. Much of the information gleaned from the survey reflects what most people already know, like that 73% of Mammoth visitors come from LA, San Diego, Santa Barbara, Orange, Ventura, and Riverside counties.
Another non-surprising statistic is that 88% of visitors surveyed drove their personal vehicle to Mammoth, some rented cars, and somewhere close to 0% of the people flew into Mammoth.
By comparing survey results from 2004 with results taken last year, Brown says that the number of kids is up. 58% of visitors brought children with them, up from 31% in 2004.
This winter recreation survey found that an average party of 5.3 visitors spent close to $600 a day. That works out to about $113 a day per person. The bad news for retailers is that $260 of the $600 dollars went to lodging, $160 went to lift tickets, $109 goes to food, leaving an average of $41 for shopping.
How much weight to place in a survey that spoke with 198 guests in 2004, and 305 in 2007 is up to the reader. Brown explained that many of the surveys were filled out by people who stopped by the Visitor Center. Others were filled out by visitors to the ski area. There was an emphasis on mid-week visitors to the mountain, according to Brown.
This could possibly explain the fact that despite the traditionally slow weekdays in town, the survey found that the average length of time a visitor stayed in Mammoth is four nights.
Three quarters of those surveyed were repeat visitors, and one quarter of those surveyed last winter reported that they had visited Mammoth twelve or more times.
Ski Area staff surveys customers as well, Brown explained. He says that next time the hope is to combine efforts with the ski area surveys.