Mammoth's Utility User Tax is set to sunset in 2011, so the Mammoth Lakes Town Council is determining now whether or not to put it on the June 2010 ballot for renewal. The tax currently brings in approximately $800,000 per year and is being used to pay off debt that the Town took on for things like the development of Shady Rest Park. With the sunset of the tax in 2011, the debt will be paid off, so if the community voted to renew the tax, the money would be freed up for use in different areas.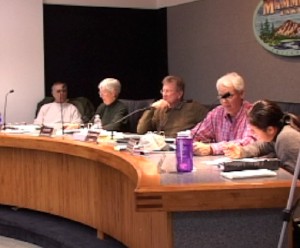 At the Jan. 20 Town Council meeting, Town staff asked the Council to approve a $16,000 contract with consultants Godbe Research in order to do a survey to figure out the community's priorities and what it would like to see the tax money spent on if it were renewed.
Council member Skip Harvey was concerned that the Council needed a consultant to tell them whether or not to put the tax renewal on the ballot. "Can't we just take a leadership role and decide ourselves whether or not to put this on the ballot?" he asked.
Other members of the Council and members of the public explained that the purpose of the consultant was to determine what the community would want the money to be spent on, not necessarily whether or not to put it to a vote in June.
CEO of Mammoth Lakes Trails and Public Access (MLTPA) John Wentworth explained that the Council needed to get the community to question whether or not the Town could afford to lose such a large revenue source during these tough economic times.
Councilwoman Jo Bacon added that a Utility User Tax is one of the few legal taxes that a municipality can use to bring in revenues.
Council approved the contract with Godbe Research, which is expected to begin phone surveys for its study. The deadline for putting the tax renewal on the June ballot is March 12. The Town is pushing to get the renewal on the June ballot rather than waiting until November, because by putting it on the June ballot when Council seats are up for election, the tax would be considered a general tax and would only need 50 percent of the vote. If they wait until November, the tax would be considered a special tax and would need a two-thirds vote.