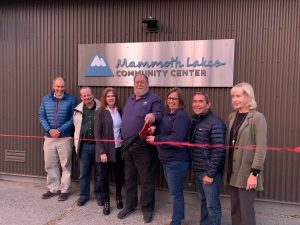 TOWN UNVEILS COMMUNITY CENTER REHABILITATION PROJECT
Mammoth Lakes, CA – The Town Council and members of the Recreation  Commission celebrated the completion of the Community Center Rehabilitation Project at a ribbon cutting ceremony on November 6, 2019.
"The Parks and Recreation Department is so proud of this makeover and excited to showcase this valued recreation amenity to our many community user groups and program participants," stated Stuart Brown, Parks and Recreation Director. "We are already seeing increased rentals for the facility and we just re-introduced a gymnastics program that is already sold out for the first session – people love it!"
The project began just over 13 months ago and was completed in November at a
cost of $117,685. The project was segmented into two phases based primarily on
the seasons and availability of both contractors and volunteers.
Phase one encompassed interior renovations during winter, and included the
installation of new vinyl flooring, paint, new appliances (oven, refrigerator), sink
and faucet, new kitchen counter tops, storage closet build out, new window blinds,
vents and new switch plates/outlets.
Phase two began in summer/fall after Town Council awarded a contract to Enright
Construction for $55,000 to complete the project. Work items included the
replacement of damaged siding and fascia, new flashing, installation of corrugated
metal feature walls, new paint, new shielded lights, a new display case, a new,
distinctive facility sign and the installation of ledger stone on the concrete landing.
"Parks and Recreation would like to recognize and acknowledge Town Council for
their commitment to enhance our valued recreation amenities and the Recreation
Commission for their continued advocacy for community recreation," stated Stuart
Brown, Parks and Recreation Director.
The Town would like to thank the following volunteers, organizations and staff
members for their valuable contributions to the project. This project clearly
demonstrates the community's commitment to building a stronger, healthier and
happier community through valued recreation amenities and facilities.
Volunteers
• Kim Getchell
• Michael Baker
• Jena Carter
• Jason and Erin Heilman
• Sandy Hogan
• Bill & Gail O'Sullivan
• Leah Weinberg
• Pat Agnitch
• Angie DeLisle
• The Westin Team and Brianna Cuellar
• The Chamber of Commerce Team – Emily Woods & Ken Brengle
• Tressa Gibbard
• Sean Somers
• Erik Kinsey
• Philip Krieger
• Christopher Rath
• Lynda Salcido
• Cleland Hoff
Town Council, Recreation Commission, Staff and Contractors
• Town Council
• Recreation Commission
• Mountain Carpet Services
• Enright Construction
• Sierra Shultz
• Amy Callanan
• Nolan Bobroff
• Marco Macias
• Warren Boling
• Kat Kelly
• John Connolly
• Lauren Plum
Reservations for the newly renovated Community Center can be made by
contacting the Parks and Recreation Department at (760) 965-3690.