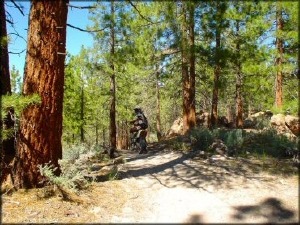 Dear Friends:
After four years of hard work, the Trail System Master Plan (TSMP) is up for final adoption at next week's Town Council meeting! We'll wager our congratulations in advance: a hearty pat on the back to each and every member of the Mammoth Lakes community who dedicated time, effort, and insight into the plan's development, public review, and, now, its adoption. We hope you can join us in the Town Council Chambers(Suite Z, on the top floor of the Vons shopping plaza) on Wednesday, October 19, at 6 p.m. to witness the final action in this plan's long journey.
But we wouldn't let this momentous occasion pass without a party, now would we? Indeed,we are throwing the community a celebration event on Saturday, October 22, not only to honor the TSMP's adoption, but also to reveal how this plan can now be fully realized and implemented as the Mammoth Lakes Trail System. (In fact, just about half of the plan that doesn't require environmental analysis is already being implemented, so we're already several big steps ahead!) We'll begin greeting guests at 7:00 p.m. at the Westin Monache Resort—with whom MLTPA has just cemented a year-long partnership on behalf of the Mammoth Lakes Trail System—and then give a keynote speech of appreciation at 8:00 p.m. sharp. Light refreshments will be served until 9:00 p.m., and no RSVP is needed.
It's hard to believe that our four-year journey will end in one week, but really it's just the beginning. We welcome your curiosity, creativity, and glass-raising on October 22!
Simply mad with anticipation,
Kim Stravers
Community Engagement Director
MLTPA Foundation