Still under the gun by town council candidates and citizens, Mammoth Town Manager Rob Clark offered more evidence that he's doing a good job with town finances.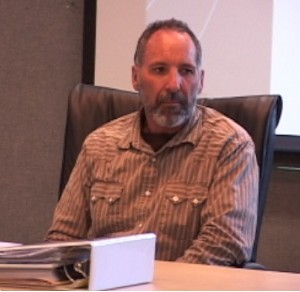 Clark issued another letter to the editor which includes what Clark describes as a random survey conducted by a "budget analyst in Palo Alto." Clark says the survey shows that the "Mammoth Lakes town Council was one of the few that made the hard decisions necessary to avoid deficits."
The survey lists projected deficits in several cities for last fiscal year and the current fiscal year. For this year, at the top of the list is the Town of Paradise with a projected deficit of $651,000. Watsonville shows a nearly $2 million projected deficit. Fountain Valley, $2.5 million; Palo Alto, $6.4 million; Redwood, $5.9 million; Oceanside, $8 million. At the bottom of the list Mammoth Lakes shows no deficit last year and no projected deficit this year.
In his letter, Manager Clark says, "Throughout the course of the recession the Town Council has continuously monitored receipts and taken action immediately to maintain a balanced budget. Last year," writes Clark, "the Town had a small surplus of $90,000. So far this year revenues are over $250,000 ahead of budget. The Town has over $8 million cash in the bank." Clark admits that next year is predicted to be a "tight year and that the Town Council will need to continue making hard choices, he writes, to keep its budget balanced."
Some others do not share Manager Clark's confidence about the town budget. John Vereuck, a leader of a new citizens group called The Future of Mammoth Lakes, said earlier that the new organization feels there are problems with the town and that the town budget is "flawed." The group, Vereuck said, is concerned with how officials spend money. He said the town has not spent enough money on marketing and tourism.