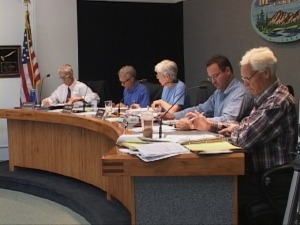 Wednesday members of the Mammoth Town Council will hear the latest on debt negotiations with Mammoth Lakes Land Acquisition, the Santa Monica firm that beat the Town in court over a development agreement at the airport.
Town Manager Dave Wilbrecht and Financial Consultant Marianna Marysheva-Martinez, along with Mayor Jo Bacon, have continued to negotiate with MLLA on payment of the now $42 million debt.  MLLA had made Mammoth an offer regarding a settlement over the debt.  The Town made a counter offer, and MLLA has responded.  That response will likely sit at the center of discussion in the Council's closed session meeting set to start at 8 am in Suite Z.
Ms. Martinez recently made it clear that there are three options in the process with MLLA – settlement talks, mediation, and bankruptcy.  Officials are currently involved in option one – settlement talks.  Because of a confidentiality agreement signed by both sides, officials have declined to say much about the details of talks that do focus on payment of the debt and terms of that payment.
If both sides agree on an amount or arrive at a mediated agreement, the Town may then borrow money from what Martinez called a judgment bond to pay MLLA.  Martinez said right now the Town has no money to pay MLLA even if agreement were reached.
After the closed session, the Council planned to meet at 9am in Suite Z for an adjourned meeting with one item on the agenda – adoption of an ordinance that would amend municipal code regarding transient occupancy taxes and business licensing.