Will Mammoth voters agree to fork over money to pay about $100 a year in a continued utility users tax? The issue will likely go to a vote, but the Mammoth Town Council continued their decision on this to an adjourned meeting this Wednesday at 6pm.
Last Wednesday, the Council heard a lengthy explanation from Brian Godbe, a consultant whose firm conducted a community survey to see about support for a utility tax. That tax will sunset or come to an end June of 2011. To keep a source of funds for the town to improve services and amenities, the Council has looked at a new tax measure with new purposes to go on the June ballot. Godbe concluded that there is support for a simple majority measure but a 2/3 vote tax would take campaigning.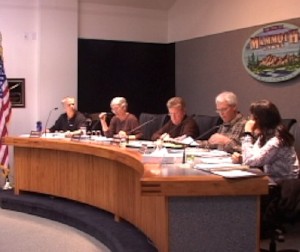 Mayor Neil McCarroll wanted to make sure that the public understands that the utility users tax will end as of June 2011. That was the agreed upon deal when it was implemented to pay off recreation bonds. That will end a year form now, so the new tax would potentially pay for new things like transportation, arts and recreation. McCarroll said the continued tax would help Mammoth grow more competitive with other ski resorts.
The Mayor said that the Town needs to make a covenant with the people to use the money for that. Not just a naked promise. McCarroll pointed to the collapse of the states finances and the move by many cities to create their own local taxes for their own local purposes. McCarroll said he favors a special tax which would require a 2/3 vote. He also favors a June ballot measure when local people will head to the polls. He also wants to see an oversight committee that will watch expenditure of the new tax money.
The Council will decide on whether the new tax will go on the June ballot and if so in what form. That adjourned regular meeting takes place Wednesday, March 10th at 6pm in Suite Z.