After weeks of private conversations and reports from inside sources, the Mammoth Town Council went fully public with its plans for carving nearly a million dollars out the new fiscal year budget. They voted unanimously to eliminate nine positions and effectively lay off the workers in them.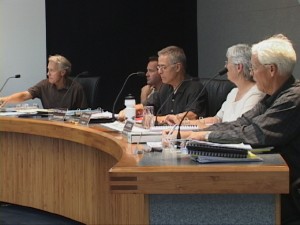 At Wednesday night's Town Council meeting, the hearing on the budget drew sharp criticism of the Council from the former Town Clerk Anita Hatter. She called their plans to cut workers a "lobotomy" for which the Council was not qualified. Hatter offered an emotional plea to consider the value of the employees on the chopping block and the impact on the Town and community. Leigh Gaasch asked the Council not to vote for layoffs.
Mayor Skip Harvey was moved by comments in support of employees. Other council members appeared determined to make changes. Each one expressed the need to change town government and prepare for future opportunities. Town Manager Rob Clark reported to the Council that efforts to negotiate concessions from employee groups failed.
Asked by council members to read the list of proposed cuts, Clark did. The list included the positions of finance director, assistant town manager, human resources/risk manager, and principle planner, engineering assistant, building official, entry level police officer (already vacant) and an accounting assistant.
Councilman John Eastman said he was ready to take action. Rick Wood said the Council had the opportunity to lead. Matthew Lehman said there have to be dramatic changes and Joe Bacon said it was an opportunity to grow and change. Eastman made a motion to proceed with layoffs. The vote was 5 to 0 in favor.