In a Mammoth Town Council meeting described as surreal, odd, tense, and very disappointing, some officials tried hard to keep the public out of ongoing meetings of the Wildlife Subcommittee that deals with the bear issue. Citizens demanded explanations, the Mayor Pro Tem said he was embarrassed and at least two councilmen demanded one more secret meeting of the Subcommittee. The big push to build public confidence on the bear issue turned into more suspicion.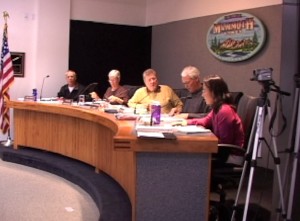 It all started with Mayor Pro Tem John Eastman who wanted to build public trust by including more people on the Wildlife Subcommittee. Council members Wendi Sugimura and Skip Harvey, who sit on the committee, said okay to everyone but members of the group Bear With us.
Sugimura also claimed Subcommittee members talk about confidential matters that should not go public. Citizens insisted they should be allowed in. Mayor McCarroll used his gavel to stop two citizens from challenging officials.
We contacted the California First Amendment Coalition. Their attorney indicated that Mammoth's Wildlife Subcommittee meets the definition of a standing committee that meets regularly on the same topic. Standing committees are governed by the Brown Act and must be open to the public.
Mammoth's officials never got around to that definition, although John Eastman said he did want meetings open to the public. Harvey and Sugimura's continued reluctance to open their Subcommittee meetings to the public made citizens in the audience even more suspicious.
Skip Harvey said, "We want to be efficient with our time and don't want to have to deal with displays of public outrage and stone throwing." That comment signaled to some in the audience that Harvey and others lack the ability to lead public meetings so they want to keep the people out.
Connie Lizza Moyer had talked about lost trust in the government. She added that Harvey and Sugimura wanting to have one more secret meeting made her wonder what they are discussing that is so secret.
In the face of Eastman's push to make the Subcommittee meetings public, council members Harvey, Sugimura and Bacon wanted to wait for the town attorney to tell them how to run public forums. None of them bothered to check the Brown Act and the apparent requirement that these committee meetings must go public.
Incidentally, the Council did renew Steve Searles' contract as wildlife officer and they agreed to come up with a plan for Searles to work legally on Forest Service land.
Wildlife Subcommittee Unsure of Stepping Out into Public
Written by Lara Kirkner
The Mammoth Lakes Wildlife Subcommittee was the major topic of bear conversation at the Oct. 7 Town Council meeting. Mayor Pro Tem John Eastman had placed the item of Bear Management Issues on the agenda in hopes of discussing several topics, the Subcommittee being one.
In an effort to begin to rebuild the public's trust in the Town Council in relation to Mammoth's bears, Eastman suggested adding a member from the US Forest Service, Department of Fish and Game, Mammoth Mountain Ski Area, Bear-With-Us, and the Town's Wildlife Specialist – currently Steve Searles – to the Subcommittee.
When Council members Wendy Sugimura and Skip Harvey, who currently sit on the Wildlife Subcommittee, claimed that the committee agreed with all of Eastman's choices except for adding a member of Bear-With-Us because, as Sugimura stated, "Bear-With-Us has a different agenda than the Subcommittee," conversation turned to holding the Subcommittee meetings in public versus private.
"If Bear-With-Us isn't included on the Subcommittee then the meetings should be open to the public," Eastman said. "We want to be transparent and we do that by including the community that wants to be included."
Sugimura believed that there were portions of the Subcommittee meetings that legally could not be open to the public, such as discussion of depredation permits and the individuals who request them.
The Town's Attorney Peter Tracy stated that it would be appropriate for the Subcommittee to have open meetings with closed sessions in a similar fashion to the way that Council meetings are run. If done this way, however, the Subcommittee would be subject to the Brown Act. This means that only cases of litigation, real estate transactions and employee issues could be discussed in closed session, according to Marianne O'Connor, the member of Bear-With-Us vying for a seat on the Subcommittee, as well as a Board Secretary who claims to have extensive knowledge of the Brown Act.
Tracy was unsure of how items such as depredation permits could be discussed in a public forum and planned to look into how the meetings would be run before the next Council meeting. He added, however, that just because Council was allowed to have private meetings did not mean they had to. If Council felt they should open the meetings to the public then they should go ahead and do so.
Harvey's and Sugimura's continued hemming and hawing over the matter of a public versus private forum for the Subcommittee meetings made the public even more suspicious of their motives.
Harvey kept stating that he wanted one more private Subcommittee meeting before they went public in order to figure out the best way to accomplish their goals.
"We want to be efficient with our time and don't want to have to deal with displays of public outrage and stone throwing," Harvey said.
Sugimura wanted to make sure she understood the process of holding the meetings in public before she agreed to it.
Connie Lizza Moyer, who spoke at the beginning of the discussion about lost trust in governmental agencies, got up and spoke again when she heard Harvey's and Sugimura's reasoning. "Maybe you didn't hear what I said earlier," she stated. "Wanting to have one more meeting before going public makes me wonder what you are discussing that is so secret."
Eastman claimed he was embarrassed by the entire Council deliberation. He favored going public with the meetings immediately so that others such as the Native Americans, represented that evening by Lucy Parker, could also take part in the bear discussions. Consensus, however, was against Eastman, with Sugimura, Harvey and Jo Bacon agreeing to wait for more information from Tracy on how the meetings would be run in a public forum before making the decision to hold them that way.
The Subcommittee will also begin to work on a plan to allow Searles to legally work on Forest Service land. Instead of sending him off to training before determining with the Forest Service whether or not this is the best course of action, the Subcommittee will come up with a plan, take it to the Forest Service for review, and then come back to Council with an answer on the best course of action. Council did approve renewal of Searles' contract for the 2009/10 fiscal year.