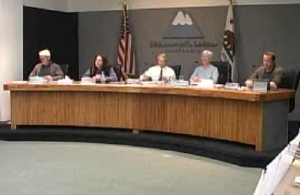 Transient Occupancy Tax is the Town of Mammoth's single largest revenue source and makes up more than 60% of the Town's annual revenue. Town Staff want the Town Council to think about that when they consider some $54,000 in TOT owed by one property owner.
Jon Hopp, who owns a dwelling on Garmisch Street will appeal the Tax Collector's Notice of Determination of past due TOT, penalties and interest. It all adds up to around $54,000. According to the agenda packet, the TOT owed was based on the property owner's records of past rentals and including penalties and interest over a three year period from 2009 through 2012.
The Council can uphold the Tax Collector's determination and order collection of the TOT or modify that determination. The Town Staff said that waiving or reducing past appropriately assessed and due TOT, penalties and interest will "affect the Town's ability to provide vital services…."
Speaking of services, Town Manager Dan Holler will update the Council on the current year's budget and prospects for next fiscal year. Holler had earlier come to the Council with the news that the extremely low snow year hurt revenue like TOT and sales tax. The Council had agreed to spend $385,000 from the Reserve for Economic Uncertainties. Tonight, Holler will revisit the budget and discuss further revenue declines and budget cuts.
Manager Holler will discuss revenue projections – the difficulties and the possibilities. The agenda packet says that the budget review and adjustments did result in an operating deficit of approximately $500,000. Some staff costs and savings, according to the document, are still under review. So, the the Town may need to use around $115,000 more from the REU.
Under the Consent Agenda, the Council will likely adopt their salary increase from $300 per month to $735. Officials will conduct a Sold Waste update and appoint three applicants to the Building Advisory Committee/ Board of Appeals.
Under Public Presentations at the start of the meeting, California Highway Patrol Lieutenant Ron Cohan will offer details from the CHP annual report. He is in charge of the Bridgeport/ Mono County office of the local CHP.