At the July 15 Town Council meeting Town Manager Rob Clark was directed to cut approximately $250,000 more from the budget on top of the $624,000 he had been directed to cut in June. Council had a closed session meeting on Monday, August 3 to discuss labor relations and the additional cuts. Clark now expects to have a plan to Council at their Sept. 2 meeting that will address the entire $800,000 in cuts.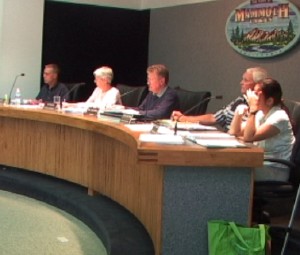 Some hard policy decisions were directed toward Rob at our Monday meeting and on Sept. 2 we will have cut staff to a level more severe than Mammoth Mountain Ski Area, percentage-wise, stated Mayor Neil McCarroll when members of the public expressed their concerns that the Town was still not doing enough to balance its budget. MMSA cut their staff by 17 percent last January according to McCarroll.
One of the departments under scrutiny for layoffs is the Police Department. Chief Randy Schienle made a presentation to Council as to why his department, which has already been cut by five positions, should not be cut any further.
We are the Towns insurance policy, Schienle stated after reviewing the work the police department is involved in on a regular basis. No one likes to pay the premium, but when something happens youre sure glad to have us around.
At this time the land sale of the Towns portion of the hospital parcel has been put on hold, which means that the Town will not have the approximately $1.6 million they were hoping for to help replenish the Reserve for Economic Uncertainty (REU).
Both the County and the Hospital are deferring making decisions on the land sale until they deal with their own budget problems, Clark stated.
However, according to Finance Director Brad Koehn, Transient Occupancy Tax (TOT) collections for April, May and June have exceeded budget projections and it looks as though the Town will start the new fiscal year with $900,000 more than they expected. However, they still need to cut the $800,000 to balance the 2009/10 budget.
Koehn also provided a forecast of property tax forecast assumptions for 2009/10. After factoring in property reassessments, delinquencies owed and expected to be collected, and a reassessment of the MMSA sale Koehn projected $3,000,654 in property tax revenue in 09/10. He stated that this number was a 1 percent growth over the 2008/09 projected budget, but was a 1.6 percent decrease from the actual revenues received in 08/09.
Council voted 4-1 to continue using the budget as a working document until Clarks plan report on Sept. 2. Councilman Skip Harvey voted against this method because he felt he had not seen the actions needed to balance the budget up until this point and did not believe he would see them at the Sept. 2 meeting either.