The Mammoth Town Council made it clear Wednesday night – they say Mono County has charged Mammoth Lakes citizens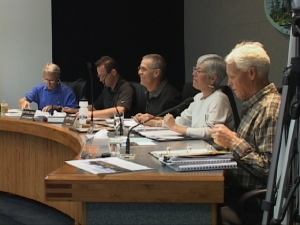 higher rates for landfill service for as long as ten years. They say it's time to be fair.
In a draft letter to Mono County, the Town Council points to the fact that the Mono Supervisors are considering an increase in the tipping fee from $50 per ton to $68 per ton,with a possible add-on of $9.25 per ton for the South County/ Mammoth Disposal transfer station. The letter says that the County's own study says the Town of Mammoth has been paying "56% of the County's solid waste cost while receiving only 40% of the benefit."
At Wednesday night's meeting, Town Manager Marianna Marysheva-Martinez reported that the County's consultant said Mono would have to add $500,000 to the solid waste budget to reduce Mammoth's charges. She said the County is willing to add $288,000 and that Mammoth is encouraging Mono to contribute the whole $500,000.
Councilman Rick Wood said that he and Councilwoman Jo Bacon have been in discussions with the supervisors over this. Wood said Mammoth is the County's biggest customer. "We don't want to be in a fight," said Wood. "But we do want to influence their vote." He pointed out that three of the five supervisors do represent parts of Mammoth Lakes and that they need to "look out for the interest here."
The Council voted to send the letter to the Supervisors as encouragement to "do the right thing."