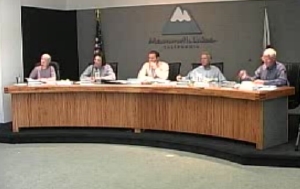 Before they headed into their official agenda Wednesday night, the Mammoth Town Council heard from five people during public comment.
Jessica Morriss, a Town planner, told the Council that she and others have carried out a series of meetings on the project to re-design Main Street. She said staff, consultants, business owners and stakeholders have met. Morriss said Caltrans is very receptive to ideas. She said consultants will do a draft implementation plan.
Martin Kleinbard said he had attended some of the Main Street meetings. He said he was baffled that consultants were "unaware of key issues". Kleinbard called the process a "big adult game of pretend." He said, "We in the public need to know the impacts of plans before we give an opinion."
Tourism Director John Urdi said the group working on a Business Improvement District will have a resolution of intent for the Council May 1st. Collection of the fees would start August 1st. He said, "We have a direction where we want to be." Urdi said there will be public meetings on this new assessment after May 1st.
Teri Stehlik made the Council aware of problems with buses parked on Canyon Boulevard that block the view of the crosswalk over to the bus stop. Public Works Director Ray Jarvis said the Town is looking at restructuring Canyon and will address that issue.
Jarvis added that he knows about problems with pedestrian beacons on Main St. He said that is the Town's responsibility and that it is a wiring problem. Jarvis said he will have crews deal with that and a traffic signal problem at Old Mammoth and Meridian.
Johnny Goetz told the Council that there will be a Town Clean-Up day on May 18th.