Wednesday night, members of the Mammoth Town Council heard from Edison how squirrels have shut off power in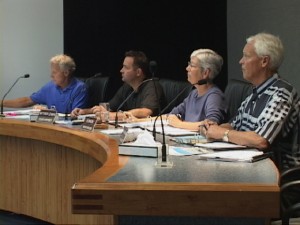 Mammoth Lakes more than once. They also touched on a brief item that could mean long-term change for local government.
First, the squirrels. Edison's Dan Brady explained to the Council that the recent series of power outages in Mammoth, in part, happened because squirrels like to get into power lines. Brady said Edison will continue to work to get protections in place for the lines so squirrels and birds will not interfere with the town's electricity. He said squirrels literally like to chew on power cables.
Brady suggested that the Council members check out the topic power outage and squirrels on the internet. He said this problem crops up almost everywhere. Brady told the Council that outages will happen and that it's important how Edison reacts.
Later on in the meeting council members gave verbal support to future funding for development of the trails system, they looked briefly at an item that discussed the scope of work for consultants called Avery & Associates. This company will examine how Town of Mammoth government works and determine if the Town should outsource some tasks or combine departments for greater efficiency.
Town Manager Rob Clark said the consultants will "look at what we do and compare it to other towns. They will see if we should enter contracts or if we are over-staffed."
Council members firmly committed to a smaller government when they eliminated 9 positions, including three manager jobs earlier this month.
Councilman John Eastman also noted how the City of Bishop and County of Inyo have trimmed their government operations with "Bishop," he said, "operating on fewer employees right now than they had in 1980."