At least two members of the Mammoth Town Council feel positive about the process to select an Interim Town Manager.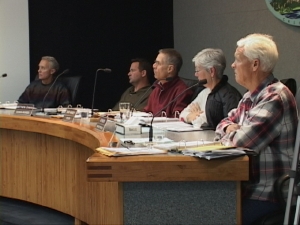 They met much of yesterday to interview candidates and discuss options.
The meeting was held behind closed doors. Councilman John Eastman said he is very pleased with the applicants interviewed. There were four of them – some local, some out of town. Eastman said the Council would likely meet with their Town Attorney next Wednesday night in closed session to discuss the options on hiring an Interim Manager.
Current Town Manager Rob Clark will leave Mammoth February 18th. Eastman said that most of the candidates seem to have good flexibility and could start to work fairly soon.
Councilman Rick Wood also said the interviews went well and that he is very pleased with the candidates. He expects that someone will speak with the leading candidate before the Council confers in closed session next Wednesday. "We won't be rudderless," said Wood.
As for the position of Administrative Services Director, Wood said that the Town might have the possibility to do something creative like hire one person to initially serve as Interim Manager and finance or administrative director. That's up in the air right now.
Meanwhile, council members also continue with exploration of options to deal with the $30 million judgment.