LADWP has once again become interested in an Owens Valley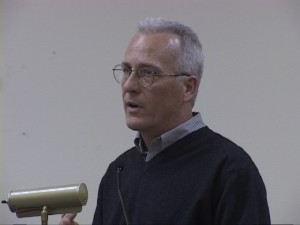 natural asset; this time it's the sun. Interim DWP Chief David Freeman is proposing an 80-acre project of solar panels to be placed on the dry lakebed of Owens Lake and Ted Schade of the Great Basin Unified Air Pollution Control District is looking at how it could benefit the District's mission as well.
Schade and the District are hoping that if the project goes forward the solar panels could be set up in such a way that they could also block the wind and control the dust that is an ever-present issue on the dry lakebed. Schade attended the Feb. 17 Mammoth Lakes Town Council meeting to update the Council on these plans for the project.
"Dave Freeman is good at getting media attention," Schade said, referring to the many articles that have already been published in papers like the LA Times regarding the project.
Schade hoped that the project may also be able to save water if the panels could be doing the job of controlling the dust.
Councilwoman Wendy Sugimura asked about the transmission of the panels. Schade explained that again, Owens Valley was ideal because it already has solar panel transmission wires in place unlike other potential venues for the project such as areas near Joshua Tree.
"The wires are more difficult than the panels," Schade explained.
After answering questions, Schade then switched gears and explained to the Council that the trends for air pollution in Mammoth were on the rise after many years of decline. Schade attributed the increase to the economy.
"It could be that the difficult economy is causing people to burn more wood than propane," Schade explained.
He asked Council to keep an eye on the situation and institute no burn days if necessary.