With all of the changes made to Mammoth Town government employees and positions, the Council will also take a look at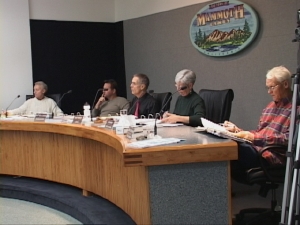 different forms of town government, all of which would require a vote of the people to change.
The Mammoth Town Council has listed on its Wednesday night agenda discussion of the town administrator form of municipal organization. The background on this says that at a July budget workshop officials asked the town staff to prepare a discussion of this type of government.
The agenda item on this lists government code options of town government organization as mayor-council form which could include a town administrator, council-manager form which Mammoth currently uses, a directly elected mayor form of government, election from districts and adoption of a charter.
The background explains that 442 cities in California operate with some form of the council-manager type of government and 28 cities use the mayor-council form. The background points out that the City of Bishop uses what they call the weak mayor form where the mayor is one of five council members who, together, have the authority to hire and fire city department heads. A city administrator coordinates functions.
Over the years, various citizens groups and individuals in Mammoth have raised the idea of an elected mayor. The Town Council will talk about this Wednesday night.
The regular council meeting starts at 6pm in Suite Z with discussion on the zoning code update on signs, followed by the Mammoth View request for fee modification and financial participation, then the form of town government.