The Mammoth Town Council voted on an interim budget Wednesday night.  They managed to balance it even with a $2.7 million shortfall.  The balancing act is built on concessions from employee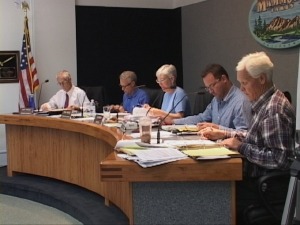 unions, elimination of some positions, a reduction in projects, use of tax measure money, and reduction of contracts.  Now, the Council faces the $41 million lawsuit debt.
The meeting drew a standing room only crowd.  Testimony from locals focused on the possibility of closure of Whitmore Pool and the cuts of three police officer positions.  The Town Council had applied for Measure R tax money to pay for the ice rink slab and for Whitmore Pool expenses.  The Recreation Commission okayed the slab but not the pool.  However, the Town found a way to keep the pool whole, at least for now.
Interim Town Manager Marianna Marysheva-Martinez said the Council made some politically difficult decisions that other cities, in her experience, would have dragged on and on.  Martinez named the tough choices as the use of Measure A tax money for an air service subsidy and Measure T tax money for a temporary structure at the airport.  Measure R tax money will pay for part of a cement slab for the multi-use/ ice rink structure.
Martinez told the Council that employee unions made concessions- police gave up on call and holiday pay and general employees and management agreed to one unpaid day per month.  It all added up to $433,000. This saved two police positions.  The third may stay with grant money.
In Public Works, the Council will eliminate an assistant engineer position later and two maintenance workers.  They agreed to fund Hayden Cabin Museum and take half of the $13,500 from High Sierra Energy Foundation and the fireworks display.  Other cuts include $375,000 from road rehabilitation, $38,500 from Mammoth Lakes Housing, a total of $10,500 from High Sierra Energy and other cuts.
Now the focus shifts to the $41 million debt and negotiations with Mammoth Lakes Land Acquisition.  Martinez said that that will be the time for serious prioritizing.  "We have cut down to the bone," said Martinez.  She said that she and the Town Manager will bring 9 priority areas to start discussion as the Town goes forward with the MLLA settlement.  At Wednesday night's meeting Martinez brought reality to the situation when she told the crowd that as an example they should consider that if the Town had to pay MLLA the $41 million over ten years, the cost would be $4 million per year plus interest.  A sobering consideration for July.