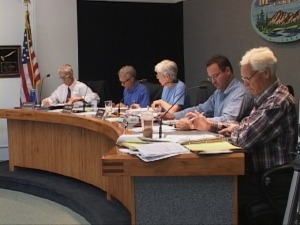 The Mammoth Town Council will meet Wednesday in Suite Z.  At 5pm the Council will go behind closed doors to talk about settlement negotiations with Mammoth Lakes Land Acquisition over the $42 million airport lawsuit debt.
At 6pm, the Council will give service awards to town employees.  A ten year award goes to Facilities Maintenance worker Mark Crough.  A twenty year award goes to Public Works Maintenance Manager Todd Murphy.
And making the rounds, Lisa Isaacs will talk to the Council about the Air Pollution Control District's new Clean Air Projects Program.  Pam Hennarty of Mammoth Lakes Housing will talk to the Council about the 2011 Housing Needs Assessment.
The Council will likely approve an application for grant funds for the reconstruction of Sawwmil Cutoff Road and a new parking lot for access to the Inyo National Forest.  Finally, the Council will consider approval of the winning arrival and departure messages for the new Gateway Monuments.
59 members of the public voted on surveymonkey.com for the top entries submitted by citizens.  The winning messages were both John Muir quotes.  The arrival monument would say "The Mountains are calling."  The departure monument would say "Going to the mountains is going home." See You Again Soon.
It's up to the Town Council to approve the winners.  The arrival message was submitted by Jim Smith.  The departure message was submitted by Larry Walker.  If approved, the Council would give the two winners personal pavers in the pathway leading to the south side monument.