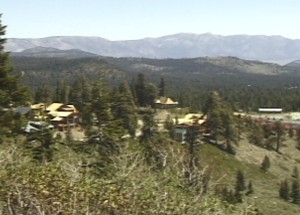 Mammoth Tourism Director John Urdi is a true believer in marketing, and he has evidence to prove it. Urdi and his staff lately transformed themselves into a visitors bureau when the federal government shut down the Welcome Center next door. Their work is continuing.
Urdi said, "Our visitors have been extremely appreciative." He said he has heard from local businesses that Tourism's help at this time has made a big difference. Urdi said it gave the Tourism Office an opportunity to "show off what we have in Mammoth Lakes." Urdi said he's sitting down weekly with Forest Service Ranger John Regelbrugge to review impacts of the government shutdown. Locked bathrooms in the Lakes Basin are a problem. Urdi said he and his kids emptied trash at Horsehoe Lake to keep the feature attractive and useable.
Urdi said the goal of Mammoth Lakes Tourism is to make sure that people who come to Mammoth do not have their trip derailed because of the non-functioning federal facilities. He said his staff makes sure visitors see beautiful things, take local hikes and also visit state parks in the area.
And, as the Tourism Office collects the new Business Improvement District taxes for future marketing, Urdi looks at recent growth in Transient Occupancy Tax. He believes it is from marketing. Urdi said that this May and June were record TOT months – way up from three years ago. In 2010, June's TOT equalled $383,000. This June came in as $612,000. Urdi's annual report shows that 2012-13 versus 2011-12 achieved an 18.5% increase or $1.8 million more in TOT.
Urdi says a combination of marketing tools has achieved the increased visitorship. He also said a strong focus on special events has made a big difference. Mammoth Tourism also focuses on social media to get the word out about Mammoth. We will have more on the new tax in town and future marketing plans in a later story.