Press release
Across the country, the popularity of storytelling is growing – with Storytelling Festivals springing up in every region. The Mammoth Museum at Hayden Cabin is catching this wave of interest as it presents the first Mammoth Storytelling Festival on Saturday, September 24, 2016.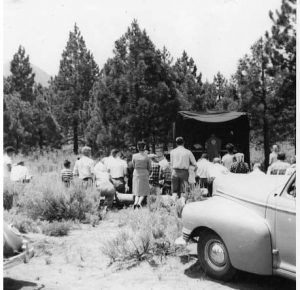 In today's wired world, responding to the human voice is becoming a lost art. By presenting engaging "Tales of the Sierra," along the banks of Mammoth Creek, the Mammoth Museum hopes to transport its audience to a less hectic time. A time when families sit together and enjoy spoken entertainment suitable for all ages. A time when yarns from the past are as fun as Pokémon Go.
With the Sherwin Range towering in the distance, this event at the new "Temple of Folly" tent on the museum grounds will present tall tales and music next to quaking autumn aspens.
Since the event is sponsored by the Southern Mono Historical Society (operators of the Mammoth Museum), you can be sure there will an historical spin.
This "all-ages" festival begins at noon on September 24, 2016 and will continue until 4:00 p.m. A group of talented local storytellers have volunteered to share their unique and amusing tales. The requested donation is $10.00 per adult ($5.00 per child) and there will be a break for sweet treats and a musical interlude around 2:00 p.m.
This event is part of Outside on the Eastside -a colorful fall celebration of arts, culture and recreation. Also, this is the closing weekend for the Mammoth Museum, so it will be the last chance for visitors to see the current museum exhibits before the Spring 2017 reopening.
The Hayden Cabin is located at 5489 Sherwin Creek Road. Look for the "Museum" sign on the east side of the road just before The Station/Sierra Meadows Ranch. Parking is limited at the museum, so guests are encouraged to enter on foot from the north by crossing the bridge over Mammoth Creek from the Town Loop multi-use trail at Mammoth Creek Park East.
Come prepared for variable weather. If you would like more information, please call (760) 934-6918 or email [email protected] Join the Mammoth Museum in celebrating fall colors and tall tales on Saturday, September 24th at the inaugural Mammoth Storytelling Festival!
CONTACT INFO: (760) 934-6918 www.mammothmuseum.org [email protected]
Facebook: www.facebook.com/www.mammothmuseum.org…