This Saturday, Mammoth Mountain Ski Area staff plans to dedicate a ski run to famous Eastside resident Andrea Meade Lawrence.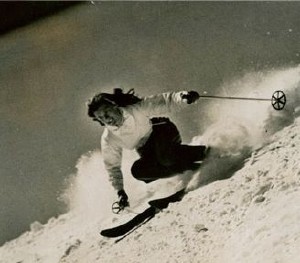 Lawrence was known for her political work and activism in the Eastern Sierra, but she was also a legendary ski racer who won two gold medals in the 1952 Oslo Olympics. She was admitted into the National Ski Hall of Fame in July.
Lawrence passed away in April of 2009. On Saturday, officials with Mammoth Mountain Ski Area plan to change the name of the ski run known as Far West to Andys Double Gold.
In a press statement, Mammoth Mountain CEO Rusty Gregory said, It is fitting and proper that we re-name Far West, a ski run that has seen so many races over the years, Andy's Double Gold. The monument to Andrea's legacy at the top of this run will serve to remind all who ski and ride here that the fun and enjoyment provided by mountains come with a solemn obligation to protect them. She dedicated her life to this noble cause so we dedicate this run to her.
The ceremony starts at 10:00 am Saturday at the top of the Far West Ski Run at Mammoth Mountain.