Until the State of California passes its budget, which may or may not happen by July 1, the Mammoth Unified School District does not know exactly how much money will be cut from their coffers. Therefore, the School Board went ahead and passed their annual budget based on the numbers currently in front of them on June 22. When the time comes for the State to start pulling funds, the District will look to their reserve to get them through the 2009/10 deficit.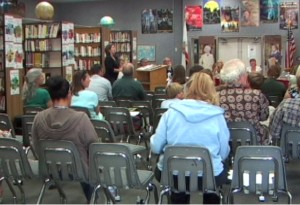 MUSD is a Basic Aid District, and is therefore unable to make additional staff cuts for 09/10, according to the District's Business Manager Jim Maxey, which is why they will have to burn through their reserve. However, the Board did approve a reduction to the Husky Club Assistant Director's hours from 8 hours per day to 3 and half hours per day.
The District's budget goes through four revisions every year with the next draft coming out in August. It will be there that the Board should be able to see exactly how much the State actually took. Right now it is estimated to be $675,000 if the State chooses to only cut transportation by 20 percent rather than the 65 percent they were originally proposing.
The State is also forcing districts to sweep Tier III categorical funds, or grant moneys usually set aside for specific purposes, into their General Funds so that they have more flexibility with the dollars and can use the money to help fill in the deficit. For MUSD this would be approximately $227,000, but Maxey stated he would only use this money if absolutely necessary since it would be pulled from programs being funded by the art and music grant and the GATE grant among others.
The Board will hold a special workshop on July 14 to discuss how they are going to cut the budget for 2010/11 and beyond.
"This year's budget conceals the pain of what is really going on," stated Board member Greg Newbry. "Next year we will realize how bad things really are."
Ideas from the June 11 Special Workshop will be reviewed and discussed in depth at the July 14 workshop.