Many in Mammoth continue to scratch their heads over reports that the school superintendent would resign, but it was unclear over what. Citizens rallied for him at a school board meeting, but at least one parent questioned his motives.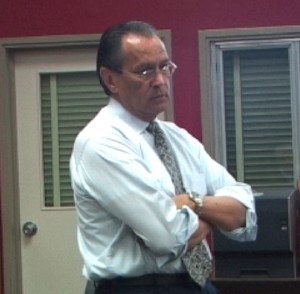 Cleland Hoff covered a school board meeting Monday night at which over 65 community members, including many teachers, met at the high school library, mostly to show their support for Superintendent Frank Romero. Officials did announce that Romero did tender his resignation but the reason was not revealed. Citizens offered their own comments.
Dan Dawson pointed to the major cost of changing superintendents right now. The audience burst into applause when Dawson said that Romero is "the best superintendent since he could remember." Dawson suggested that the school board find a way to work with Romero for the rest of the year and then fairly evaluate him in January with a final decision in June.
Many teachers made impassioned statements on Romero's "dedication, hard work and selflessness." Bonnie Gregory got up to comment that although Rusty Gregory was not at the meeting, he had talked with Tom Cage and Dan Dawson whose remarks he shared. At the meeting, parent Kathy Cage said of Romero, "If he wants to resign, let him resign."
Kathy Cage later revealed a conversation she had earlier shared with Romero. Cage said Romero told her that he could not get a unanimous vote of confidence from the Board in closed session. Cage said it was unclear why he needed the vote and what the real issue was. Cage said she assumed the controversy exists over the high school and problems there, including the performance of the principal.
Cage, a former Town Councilmember, concluded that the situation is a crisis of Frank Romeros own making. Cage said she told Romero that she really likes him and that his big capacity to do things may be working against him. I told him that problems cant be solved just by the World According to Frank Romero.
The school board issued a brief statement after they met in a closed session Monday night. Here is the statement:
"There was no formal action to report, but we (the Board) have met at length together with the Superintendent to discuss our goals for the District and for the Superintendent for this school year. The rumor that the Superintendent is resigning effective immediately is false. The Board and Superintendent will continue to work together for the remainder of the 2009-2010 school year. The Superintendent's evaluation and subsequent new goals and objectives will commence in January, 2010, under the terms of his contract." This statement did not clarify the longevity of Romero's employ since his contract does allow a January resignation and continuance of work until June.