The horrible shootings of children and adults in Newtown, Connecticut still haunt many. School, law enforcement and mental health officials, in particular, have felt compelled to take a closer look at security and safety plans. Thursday night, Mammoth's School Superintendent planned to do just that.
Superintendent Rich Boccia scheduled a discussion on School Safety Plans at the school board meeting at 6:40 pm. School principals, the Police Chief and Mono Mental Health officials planned to speak.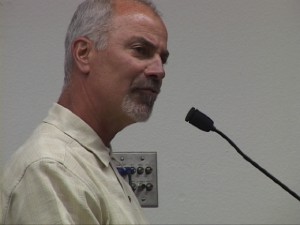 Boccia said that with recent shooting incidents, everyone is concerned about school safety. He said, "It's time to step back and take a look." After Thursday night's discussion, Boccia said officials will present safety plans February 28th and bring all the safety teams together March 14th.
Mammoth Police Chief Dan Watson said at the school board meeting he will talk about a typical response by police to an incident on the school campus – what police would do immediately and then what they would do to bring in more response. Chief Watson said that he and others will schedule an actual training on campus during spring break. Watson called the Connecticut tragedy "a good motivator." Just as the Columbine shootings were. Watson said after that incident, law enforcement came up with standardized training in response to an active shooter.
Superintendent Boccia said the Connecticut shootings made people in Mammoth a little more vigilant. He said, "Our schools are safe, but we can be vigilant as a community, know about each other and do more training. We want to know," he said, "what a student in crisis looks like."
In the small towns of the Eastern Sierra, people feel like school shootings won't happen. Boccia said, "Something like that can happen anywhere." He said, we have an advantage that we're small and know students by name. Boccia also said, "We need to prepare ourselves."