The strange and unexplained departure of Mammoth's School Superintendent Frank Romero has left puzzling questions but a smoothly functioning district, including the new Independent Study Program.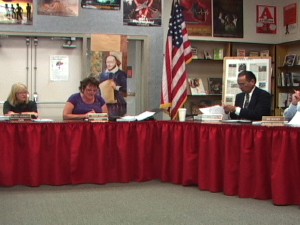 As we had reported, the Mammoth School Board issued a news release to say that Romero would not return to Mammoth Unified after the holiday break. We have placed numerous calls to Romero's home in June Lake. He has not responded. Privately, sources close to the situation speculated that Romero's own inclination to control all district issues put him at odds with school board members.
The perceived ego conflicts between the Superintendent and elected officials did result in closed session discussions. Romero had told one parent last September that he wanted a unanimous vote of confidence from the board but couldn't get it.
The School Board asked former Superintendent Rich McAteer to step in temporarily and Pat Rogan will serve as Interim Principal at the Elementary School. Romero had agreed to fill both jobs.
The School Board called a meeting for January 5th to "make formal appointments and to take further action on Dr. Romero's contract."
Meanwhile, asked if the District's Independent Study Program would change as a result with the upper level shake-up, Tom Cage, one of the organizers, said no, the program will continue as it has, successfully with a status meeting set for January 11th.