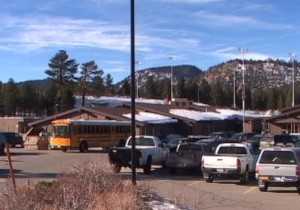 A month ago, Dr. Andrew Bourne handed in his resignation from the Mammoth School Board.  Now, the board has announced its intention to appoint a replacement.
In an announcement, officials said they encourage residents to apply.  Applicants must be a resident of the school district and 18 years of age or older. School officials said that applicants need to prepare a letter of introduction that explains their interest in the appointment and to attach a current resume.
The letter and resume should be directed to Rich Boccia, Superintendent, Mammoth Unified School District, Post Office Box 3509, Mammoth Lakes.  Officials will accept applicant packages through Monday, February 20.
The Mammoth School Board will meet February 23rd at 3pm in the Mammoth High School Library to interview applicants.  Later in the meeting, at an estimated time of 8pm, the Board will actually make an appointment.  their agenda explains that when a board member resigns, a school district must fill the vacancy within 60 days after the filing of the resignation either through a provisional appointment or an election.
The Board's agenda says the recommended action is to appoint a new school board member. All those who apply for this appointment must be available for an interview at the February 23rd meeting.  For more information, call the district office at 760-934-6802.