A special meeting of Mammoth School Board will go into closed session and stay there Tuesday night.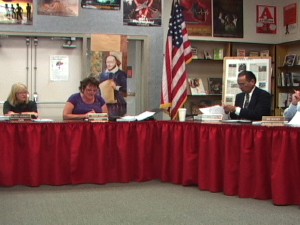 Officials will evaluate Superintendent Frank Romero, according to the agenda and consider discipline, dismissal or release of an employee, presumably the Superintendent.
The Board will also consider appointment of interim superintendent and elementary principal.
This meeting comes on the heels of a press release from Mammoth School Board that said Superintendent Romero would not return to his job after the holiday break.
Romero is not talking and board members will say very little at this point. President of the school board, Gloria Vasquez, did confirm that the Board is aware of plagiarism by Dr. Romero of certain printed materials. Vasquez said that this is a personnel matter and that the Board will consisder further action during the closed session of the January 5th meeting.
Vasquez said that if the Board takes action during its closed session, it will be reported out afterwards and before adjourning.
The special meeting is set for Tuesday at 6pm in the Sierra High School MPR/District Office Conference Room.