For eight years, following September 11, 2001, the Mammoth Rotary Club has found a way to honor first responders and others. This year, Rotarians focused their appreciation on the military – active and retired.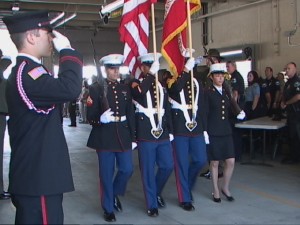 A long parade of police, CHP, firefighters and others made their way up Main St. in Mammoth. Officers and firemen crowded into the fire station. Then, it was time for the U.S. Marine Color Guard from the Pickel Meadows Mountain Warfare Training Center near Bridgeport. A bagpipe played for those lost in 9-11 and past conflicts.
Rotarian George Boothe acted as Master of Ceremonies. Rotarians honored current and retired military with lunch and lots of appreciation. Humble thanks came from Marine Colonel Norman Cooley, there with a number of his Marines. The Colonel said Marines especially appreciate community groups and first-responders who take care of their families when they are away.
An emotional and happy day for dozens hosted by the Mammoth Rotary Club.