– Press release
On Saturday, May 18, approximately 45 Rotarians and their friends and family traveled to Tecate, Mexico to build a house in a day for a deserving Mexican family of three.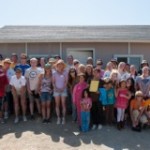 For the second year in a row the Mammoth Lakes Noon Rotary Club organized an international service project through Corazon, Inc, a Southern California non-profit organization that works with volunteers in Tijuana and Tecate.
The recipients of the houses donate hundreds of hours of community service to get on a list for a donated home. Corazon works with service clubs like Rotary, churches, and schools who provide the $7,800 for the building materials and 30-50 volunteers.
The volunteers traveled from the Eastern Sierra on Friday and spent the night in El Cajon. After meeting at 6 am, they caravanned across the border and through Tecate to Sierra Azul, a small village 12 kilometers from the border.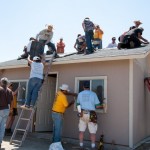 They were met by the Andrade family, a mother and her two young daughters, and a 16X20 concrete slab and lots of building materials. After a safety briefing by Corazon lead builders (also volunteers), everyone found a job. Some cut lumber. Some framed the walls and roof. Others painted. By lunchtime the walls and roof were up.
Lunch was provided by the Andrade family and afterwards the roof was shingled, windows installed, a kitchen counter tiled, and final painting completed. The house, which includes a sleeping loft and interior room, but no water or electricity, was finished by 2:30.
In a brief but moving ceremony, the keys to the new house were turned over to the Andrades. After many thank yous and hugs, the tired volunteers returned to El Cajon for a well deserved rest and then back home on Sunday.
There were approximately 10 high school students from Mammoth and Bishop High Schools. Most of them were members of Rotary sponsored Interact Clubs. The students pitched in and and learned new skills. They also learned the value of community service and they all seemed to have a real enjoyable time.
More information on Corazon can be found at their website, Corazon.org.