Press release
Mammoth Rocks kicks of Friday, August 21, 4:00pm at the Village at Mammoth.
The Taste of the Sierra kicks off Saturday, August 22 at 12pm and will proudly feature 10 of the areas hottest restaurants and eateries including; Charthouse, Side Door, Smokeyard BBQ and Chop Shop, Thai'd Up Authentic Thai Cuisine, Whitebark, The EATery, Red Lantern, SheShe's Treats and High Sierra Kettle Co., all offering, affordable, delicious Tastes so bring your appetite as you sample some of the finest cuisine Mammoth Lakes and the Eastern Sierra have to offer.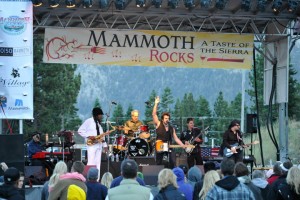 Beginning Friday, August 21st, local favorite "Bird Dog" opens up the event at 4:00pm, "In The Led" will be playing at 6:00pm and at 8:00pm, "Fireball" rounds out the evening.  Saturday, August 22nd starting at 12:00pm, incredible music and tasty food will both be served!
"Bird Dog" opens a full day of awesomeness followed by "In The Led" at 2pm, "Abbey Road Tribute to the Beatles," follows at 4:00pm and at 6:00pm, the multi-talented band "Mother Mercy," will be performing all of your favorite hits from the 70's, 80's and 90's!
Rounding out the night will be "The Atomic Punks -The Tribute to  Early Van Halen" doing classic arena rock proud!" Mammoth Rocks- Taste of the Sierra is proud to announce yet another stellar Classic Rock tribute band to the already-amazing lineup for this year's party at The Village at Mammoth!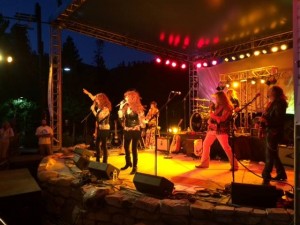 Just added to the line up, "In The Led," a tribute to Led Zeppelin featuring vocalist Chas West, former lead singer of the rock band "Bonham!"   This musically and vocally talented proper tribute band is sure to bring the house down! Don't miss the early show!
Special celebrity guest appearance from Katie Daryl, host and producer of AXS TV's Americas Greatest Tribute Bands, will be bringing out the final 2 bands. The party continues Sunday at the Westin Monache for a Sunday Funday party poolside with $5 drink specials and breakfast burritos. Live music, fun and sun ($10 admission, $5 off with Mammoth Rocks t-shirt).
This weekend promises to be a feast for all of your senses!  Admission is FREE. Limited VIP tickets available. Volunteers are needed. For more info, lodging packages, the latest on band, schedule and participating restaurants and vendors and Sunday Funday, please visit http://www.mammothrocks.com and like our Facebook page Mammoth Rocks.

The Atomic Punks – The Tribute to early Van Halenhttps://www.youtube.com/watch?v=36wIsn3zxTg
www.theatomicpunks.comhttp://www.theatomicpunks.com/
https://www.youtube.com/watch?v=oxbJVWKngaI
Voted "Best Tribute Band" by LA's "Rock City News" three years in a row, the Atomic Punks have created a national following that continues to grow by leaps and bounds all the time.
In his 1997 auto-biography "Crazy from the Heat," former Van Halen frontman David Lee Roth referred to the Atomic Punks as "The best tribute to Van Halen ever!"
Van Halen bassist Michael Anthony performed a set with the Atomic Punks in Pasadena, CA, and said "I feel like I am back in 1982 performing with the old band!" Anthony added, "The Atomic Punks rock!"
Nationally syndicated radio host Howard Stern stated on his show, "The Atomic Punks become Van Halen. It's the total experience, they do Van Halen better than Van Halen themselves!"
Abbey Road – A Tribute to the Beatles.
http://www.abbeyroadtributeband.com/
"The show delivers!" said the L.A. Times. "If you see one tribute show, see this one – smart and loads of fun," said the O.C. Register. "This is the ticket for you," said the Idaho Statesman.
In The Led – A Led Zeppelin experience
http://www.facebook.com/intheled
Chas West toured for several years fronting The Jason Bonham Band. He also did a U.S. tour as the lead vocalist for Foreigner! He was voted "Best Male Vocalist" in the South Bay Music Awards program a couple of years ago and also works with several other national celebrity touring bands. Robert Plant saw Chas sing and said: "He sounds like me when I was his age."
Mother Mercy (formerly Mrs. Robinson)http://www.facebook.com/intheled
http://mrsrobinson.bizhttp://mrsrobinson.biz/
https://www.youtube.com/watch?v=36wIsn3zxVoted "Best Tribute Band" by LA's "Rock City News" three years in a row, the Atomic Punks have created a national following that continues to grow by leaps and bounds all the time.
Mrs. Robinson is a professional tribute band that offers a stage show like no other—amazing music performed by talented musicians, in character. Their performance pays tribute to the hit makers of our time, spanning five decades and most genres including rock, pop, disco, and blues. They perform each song with incredible detail, with the ultimate goal to entertain and energize the audience. If you want your event to be a hit… this is the band to have!
Collective talent with impressive credits.
Mrs. Robinson is a group of Los Angeles based professional musicians that have performed in the studio and on stage with artists like: Chuck Berry, Cher, Alice Cooper, Emerson Lake and Palmer, Guns and Roses, Alicia Keys, B.B. King, Carole King, Edgar Winter, Kingdom Come, Michael Sombello, CellMates, Survivor, Billy Bob Thornton. They visually and vocally create a remarkable interpretation of each artist they portray, drawing the audience in with an engaging performance that's a cut above.
Fireball
Classic Rock from all eras.  "The band will rock you hard with hits from ACDC to Frampton, FREE to Thin Lizzy, the Eagles to Foo Fighters… These guys bring it!"  Players from LA, played with KINGDOM COME, CHER, ELO, EDGAR WINTER
Bird Dog
Bird Dog is a local Mammoth Lakes band that plays a high energy set with a mix of rock, blues and funk covers.  Featuring Kailani Marquez on lead vocals, Jon Carlton and Josh Mann on lead guitars, Mike Villemaire on the bass guitar and Ryan Bravo on the drums.