MLPD press release
Mammoth Lakes, CA – Javier Apodaca Sanchez, 23, of Mammoth Lakes was arrested Saturday, February 18, 2017, in connection with multiple stolen vehicles and serial burglaries.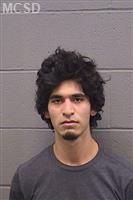 A recent series of vehicle thefts and burglaries with similarities over a one-week period triggered an investigation by the Mammoth Lakes Police Department.
On Saturday, February 18, 2017, officers observed one of the stolen vehicles and identified the suspect as Javier Apodaca Sanchez. A vehicle pursuit followed with Sanchez attempting to evade officers, which led to a foot pursuit and his subsequent arrest. Officers were able to identify and recover three vehicles and a large amount of property.
Sanchez was transported to the Mono County Jail and is being held on charges of burglary, possession of stolen property, and two counts of vehicle theft.