Real estate, an important economic driver for the Town of Mammoth Lakes, has taken a dive, according to tax records. While the value of real estate sales has been cut in half and then some, tax records show that money is still changing hands.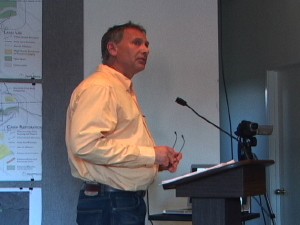 Mammoth Town Finance Director Brad Koehn reports that for the ten month period between July 2008 and April 2009, roughly $100 million dollars in real estate transactions occurred. For every $500 of property value sold in Mammoth, the county kicks back 27.5 cents in what is known as the document transfer tax. The tax only brought in $54,340 this time around, but Koehn calculates that this amount means at least $98,800,727 in real estate transactions occurred in this ten month period.
$100 million is a large number, but Koehn says that during the same period between July 2007 and April 2008, the value of taxed real estate transactions in Mammoth was $237 million. Koehn says that the $100 million this past year indicates a large amount of value being sold, but he adds that, for sure there was a dramatic decrease in real estate transactions.