After two years of uncertainty, the Town of Mammoth Lakes and Wildlife Specialist Steve Searles are back on the same page and working together.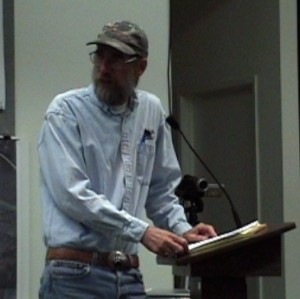 At the most recent council meeting, Mammoth Police Chief Randy Schienle presented Searles with a new uniform that will clearly identify the Wildlife Specialist as a town official. Searles also had to give up his badge when he and the Police Department parted ways. That has also now changed. Searles also has a new badge.
Marianne OConnor, with the non-profit wildlife group Bear-With-Us, worked to get Searles re-hired by the Town. Speaking of the past two summer seasons when Searles work was severely limited by having no official job, OConnor described these seasons as being like a cart turned over. Now that the Wildlife Specialist is back on the job, the slightly damaged, cart is back upright, she said.
Councilmember John Eastman, who worked ceaselessly to re-hire Searles, spoke of when Searles was fired for the second time, and had no support from town staff, the Department of Fish and Game, and the Forest Service. He said that Searles had been hired back, against all odds, after a lot of heartbreak, and effort, on all of our parts.
Searles thanked everyone for their support and got right down to business. He explained that an expected cyclical explosion, of raccoons this season was kept in check by the long winter. None-the-less he reported that people are feeding raccoons and asked that people, knock it off. The coyotes are also in check, but Searles said that the deep snows up high mean more deer waiting in the Mammoth area.
Searles explained that with the vehicles hitting deer, the deer have so far caused more property damage than was done by bears all last season. He suggested deer whistles for vehicles and properly adjusted headlights. He also asked drivers to slow down to avoid deer because for the next few weeks deer would continue to be a huge issue.
As for the bears, Searles said that a sow in the Old Mammoth area has two, eight pound cubs. There are also two young blond bears that have no mother to teach them the ways of people. He asked that people use good judgment around these two bears.
Many people have called to report bear incidents late into the night. Searles asked that people call the police if they have a late night incident to report. He explained that there may be some hesitancy to call the police for bear incidents, but Searles said that the officers are very patient with bears and people should not hesitate to use their services.