In support of Disabled Sports Eastern Sierra's Special Olympics event, the Mammoth Lakes Police Department, Mammoth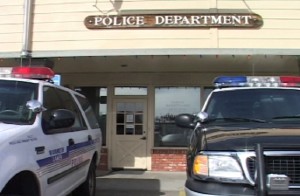 Lakes Peace Officers Association and Angel's Restaurant invite the public to join them for what they're calling Tip-A-Cop fundraiser Wednesday night from 5pm until close at Angel's.
Yes, the officers will fill the role of waiters. They will take your orders, serve your dinners and would appreciate a tip which goes directly to Disabled Sports. Angel's has also agreed to donate 10% of the evening's revenues to Disabled Sports. The officers, more suited to protection on the streets, joked that they will "try not to spill anything on you."
An MLPD patrol car will also be parked for public viewing. If you can't join the fun Wednesday night, you can still make donations through the MLPOA, PO Box 9408, Mammoth Lakes, CA 93546 or drop off your donation at the police station on Old Mammoth Road.