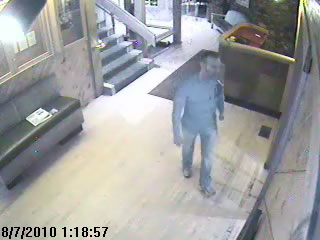 Mammoth Police are asking for the publics help in identifying a man who broke into a local restaurant to steal wine valued at $225 a bottle.
Detective Doug Hornbeck with the Mammoth Lakes Police Department reports that the burglary occurred at Whiskey Creek on August 7th, after 1:00 am.
The suspect entered the business, which was open at the time, and proceeded to break a window to a secured room where alcohol is stored. Detective Hornbeck reports that the suspect stole three bottles of wine. The thief apparently had expensive taste. The wine was made by Opus One, a California wine valued at about $225 a bottle.
Surveillance photos show a Caucasian male with an average build, with short brown hair and possible sideburns.
If you know the suspect or have any information that might help, contact Detective Hornbeck at 934-2011 ext. 17. You can remain anonymous if you like.