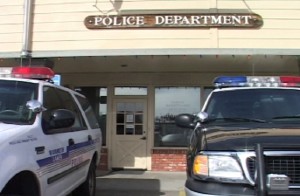 At some point, the Town of Mammoth Lakes will no longer enjoy non-stop police coverage. Mammoth Police Chief Dan Watson laid out his plan in response to the Town Council demand that he cut seven officers. The Council most recently described their desire as a $1.1 million cut in the police department with service maintained.
When Chief Watson spoke at the January 2nd Town Council meeting, he pointed out that the only thing that could be cut to realize a $1.1 million savings is personnel which makes up about 75% of the department budget. The only thing that could change this scenario, he said, is the Police Officers Association agreement to take more salary cuts. This, on top of a 16% wage cut officers agreed to take six months ago.
Chief Watson said he has already withdrawn from the Mono Narcotics Enforcement Team and has cut the School Resource Officer to part-time. In the wake of discouraging news about the police department, one sergeant and three officers have either retired or gone to another department. Still others are being processed for jobs elsewhere. By July, the Chief said, the wished for seven positions will be gone.
Currently, 17 sworn officers maintain coverage of two people at all times and four at night in Mammoth. Under the new cuts, the Chief recommended two ten-hour shifts from 7am to 3am with no one on duty from 3am to 7am. To respond to major incidents during that time, the Chief said they need on-call officers. Chief Watson said, "We will not respond to incidents in the middle of the night that don't involve public safety."
Police will not respond to vandalism, loud parties and misdemeanor crimes. They will respond to major traffic accidents, DUI accidents and domestic violence. He said they will curtail the foot beat in the Village, cancelled the DARE program in addition to a limited School Resource Officer and no narcotics enforcement task force involvement. Police will not respond to second alarm or burglar alarm calls, said the Chief. They will limit their assistance to fire and paramedic calls.
Police used to drive drunks home when they could and help people out of snow banks. That will not happen as often. Chief Watson said it will take officers a longer time to respond to non-emergencies. The Chief made it clear he has worked to reduce negative impacts on the public with his limited budget. He has spoken with heads of other law enforcement in the region. They can not fill in for Mammoth's lack of officers but will continue with some mutual aid.
Chief Watson also made it clear that a reserve program will be very limited – most likely to retired law enforcement. He said retired Mammoth Police Sergeant Karen Smart will act as a reserve and will head up a volunteer program which will not offset regular officers.
The Chief did say that if Mammoth switched dispatch services from Mono County to the Bishop Police Department, the Town could save as much as $100,000 per year.
Mayor Pro Tem Rick Wood, who had criticized the police officers for publicly objecting to the Town Council cuts, said he was happy the Chief "stepped up to meet the challenge presented." He said a number of people "feel your department was picked on." Wood admitted that there would be a different level of service. He said he believes the officers who have stayed are "committed."
The Council accepted the Chief's recommended service plan. They agreed that any savings this fiscal year will go to next fiscal year's police budget and then any salary savings would pay for on-call officers.