Lots of chances to show support for those struggling in many ways this holiday season. Organizations offer programs to help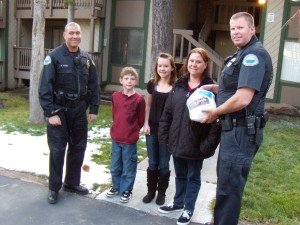 local residents with food, clothing, Christmas gifts. The Mammoth Lakes Police Officers' Association kicked off the season of giving when they made sure that 20 local families had turkey on the Thanksgiving table.
The police officers, who have dealt with many problems in the Mammoth Police Department over the past three years or so, took the opportunity to reach out. Paul Robles, MLPOA President, said that sometimes public views the job of police officers as "negative enforcers, and most often our job deals with the dark side of life," said Officer Robles. He said it was very rewarding for the officers to join in the best part of life. They distributed 20 turkeys to local families.
Police Chief Dan Watson added his thanks for the generosity of his officers. The Chief and officers extended their holiday wishes to all residents and visitors.