The second high level official at the Mammoth Police Department has formally announced his retirement. Lieutenant Jim Short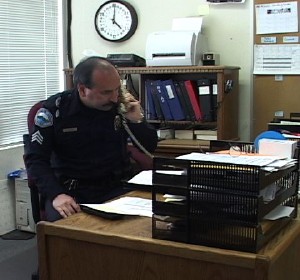 issued a press release to say that he will retire. Last week, officials had confirmed to us that the subject of Lt. Short's retirement had been discussed in closed session by the Town Council. This high-level retirement comes on the heels of Police Chief Randy Schienle's confirmed retirement.
Lt. Short's press release says he will retire after 21 years with the Mammoth Police Department and 30 years in law enforcement. The release says that if the Town hires an interim police chief July 1, Lt. Short will "be available after that date to assist the new Chief and his staff during this transition period."
Lt. Short started at the Mammoth Police Department in 1989 after 9 years with the West Covina Police Department. He was promoted to sergeant in 1996 and lieutenant in 2006.
Lt. Short worked several assignments but said he is most proud of launching the Community Emergency Response Team or CERT program in Mammoth in 2007. About 50 community members make up the team which helps the police department with a number of community activities and stands ready to help in case of disaster.