After his arrival to Mammoth, Police Chief Dan Watson heard from his officers that the MLPD needed better communication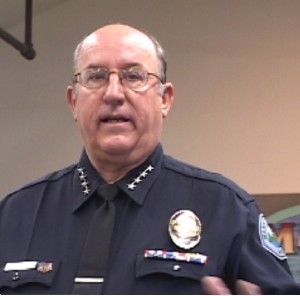 with the Hispanic community. Chief Watson took them seriously.
Tuesday night he held the first meeting of what he's called an Hispanic advisory group. Chief Watson hosted the meeting and hopes to organize open community meetings later.
With a roughly 40% Hispanic population or higher in Mammoth Lakes, it's an issue that has grown. In fact, ten years or so ago, Town officials organized meetings with key Hispanic leaders in Mammoth Lakes to make sure the various communities of people were communicating. That activity faded away.
Chief Watson said his officers indicated that many in the Hispanic community may feel disenfranchised and unlikely to want to get involved to help solve cases. Chief Watson said he wants to discuss "building a bridge" with Mammoth's Latino community.