Even as police prepared to destroy a problem bear in the Lakes Basin, officials of Fish and Game, the Forest Service and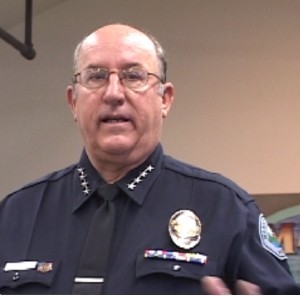 Mammoth's Police Chief sat down in Bishop for a meeting. Chief Dan Watson said they were all notified that the bear would be put down during their meeting.
Chief Watson said that the officials talked about the whole bear management issue. He said it was a meeting of all the key players including Fish and Game's Bruce Kinney and Jon Regelbrugge of the Forest Service.
Chief Watson said he would prepare a one page notice that spells out problem bears versus public safety bears and how to deal with both. This notice would basically put everyone – officials and the public – on the same page.
Meanwhile, Mammoth Wildlife specialist Steve Searles still can not perform management activities on forest land. Use of firearms is not allowed near developed areas of the forest, and Searles' tools include flash-bang devices that are powered by gunpowder. Chief Watson is still working on investigating other devices. He did confirm that they are looking at tazers for possible use.
"I will present the Forest Service with alternatives," said the Chief. "The goal is to allow Steve Searles to carry out his methods."